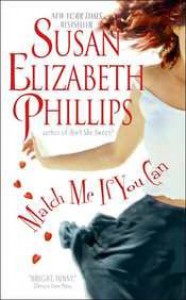 I'm finding I really enjoy Susan Elizabeth Phillips. I love the humor, I love the relationships, I love the strong men and stronger women. And each character is quirky in their own way. And it's a romance, so you know you'll get your HEA.
I haven't read/listened to the rest of the Chicago Stars series, but I'm going back now to start from the beginning. This one was about The Python (Heath Champion), a high-powered sports agent, and Annabelle Granger, a matchmaker. Heath wants to get married. Not that he wants to fall in love, but he just wants a wife, someone who will complete him. Annabelle is friends with the wife of one of Heath's clients, so she gets her foot in the door with that relationship, but Heath has already contracted with Portia, another matchmaker. Annabelle plays on Heath's underdog sensibilities and gets him to give her a chance. And they're off to the races. In the midst of all the women Annabelle and Portia introduce him to, somewhere along the way, Heath starts to rely on Annabelle for more than just matchmaking. And ultimately it leads to love. Of course, there are obstacles, because otherwise, it would be a boring story. The Dean obstacle was so funny! And along the way, Portia who seems so incredibly cold ends up falling for Heath's best friend, Bodie. Their relationship was odd, but sweet.
So now I go back to where it all started with It Had to Be You.